Visit our LAB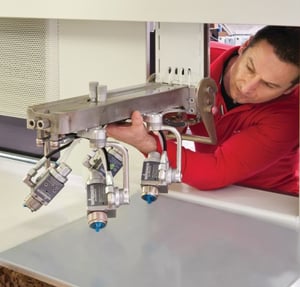 To ensure we always provide nothing less than cutting-edge solutions, at the end of the 1970s
Cefla Finishing established a test laboratory in Imola, the main objective being to ensure we could offer customers the very best technology available. Since then, the LAB has grown in Imola and has been replicated around the world in order to embrace all our finishing technologies.
Located in Charlotte, our North American headquarters houses the most comprehensive finishing laboratory in the U.S. Customers and partners can appreciate real-life manufacturing conditions with their own substrates and finishes, judging the overall benefits obtained with Cefla finishing equipment.
Equipped with locally built machinery as well as technologies made in Cefla Italy, the LAB in Suzhou is an opportunity for local customers to access Cefla expertise and test solutions conveniently, together with industry experts on site.